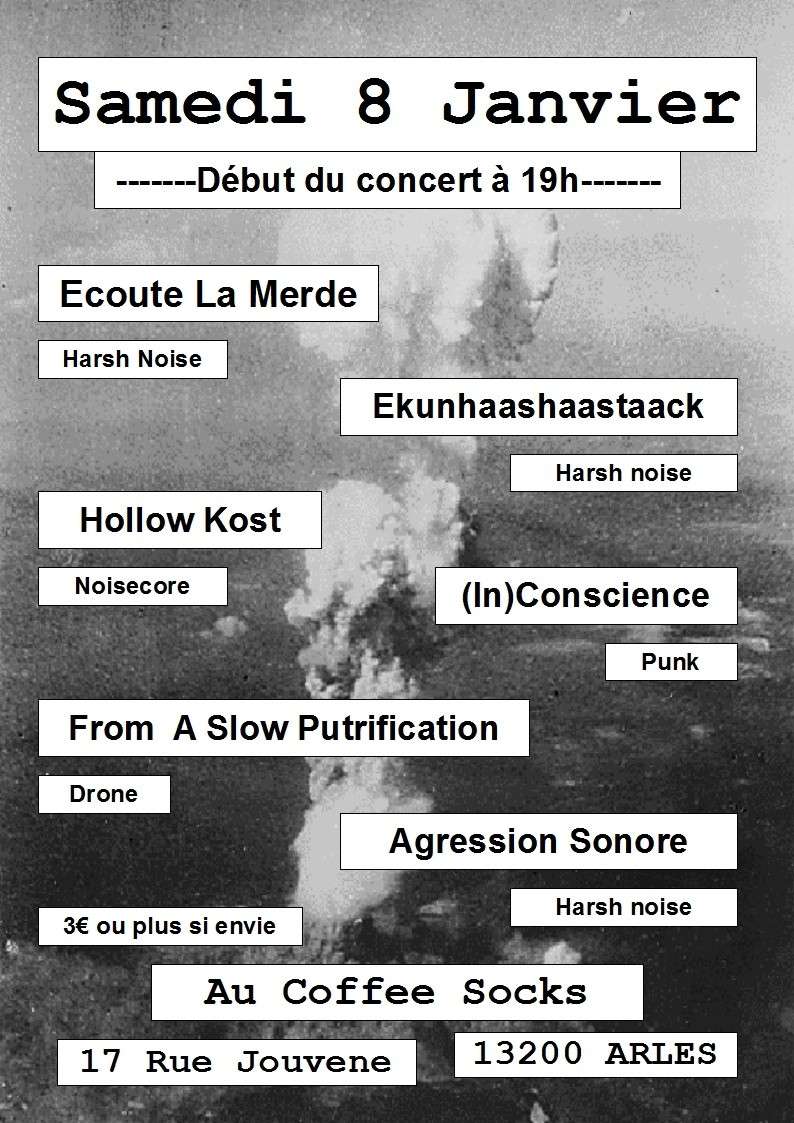 Prix
: 3€
Attention : Debut du concert a 19h pile, fin a 22h,
Envoyez moi un mail ou autre si vous voulez d'autres renseignements !
Take contact with me if you need more informations
-Ajouté de derniere minute : Sarkofachocrss88, excellent noisecore nihiliste de Lyon sera present à cette date ! A ne rater sous aucun pretexte !
Ecoute La Merde
: Harshnoise de Bourg En Bresse ( A egalement le label Underground Pollution )
Sarkofachocrss88
: Noisecore de Lyon ( A egalement le label NHDIYSTREC records )
Ekunhaashaastaack
: Harshnoise d'Avignon ( Ancien membre de Vulgar Nausea )
Hollow Kost
: Noisecore de Nul Part et de partout ( avec personne et tout le monde )
Agression Sonore
: Harshnoise d'Arles ( Celui qui a le label de ce blog)
(In)Conscience
: Punk plus ou moins hardcore, crust, ska, dbeat, rock d'Arles ( anciens membres des Red Mosquitos et un autre )
From A Slow Putrification
: Drone ou funeral doom experimental d'Arles ( avec des membres de Sanitarium Of God, groupe de thrash batard tres peu actif).